Klezmer Harp
Annette Bjorling - world's 1st klezmer harpist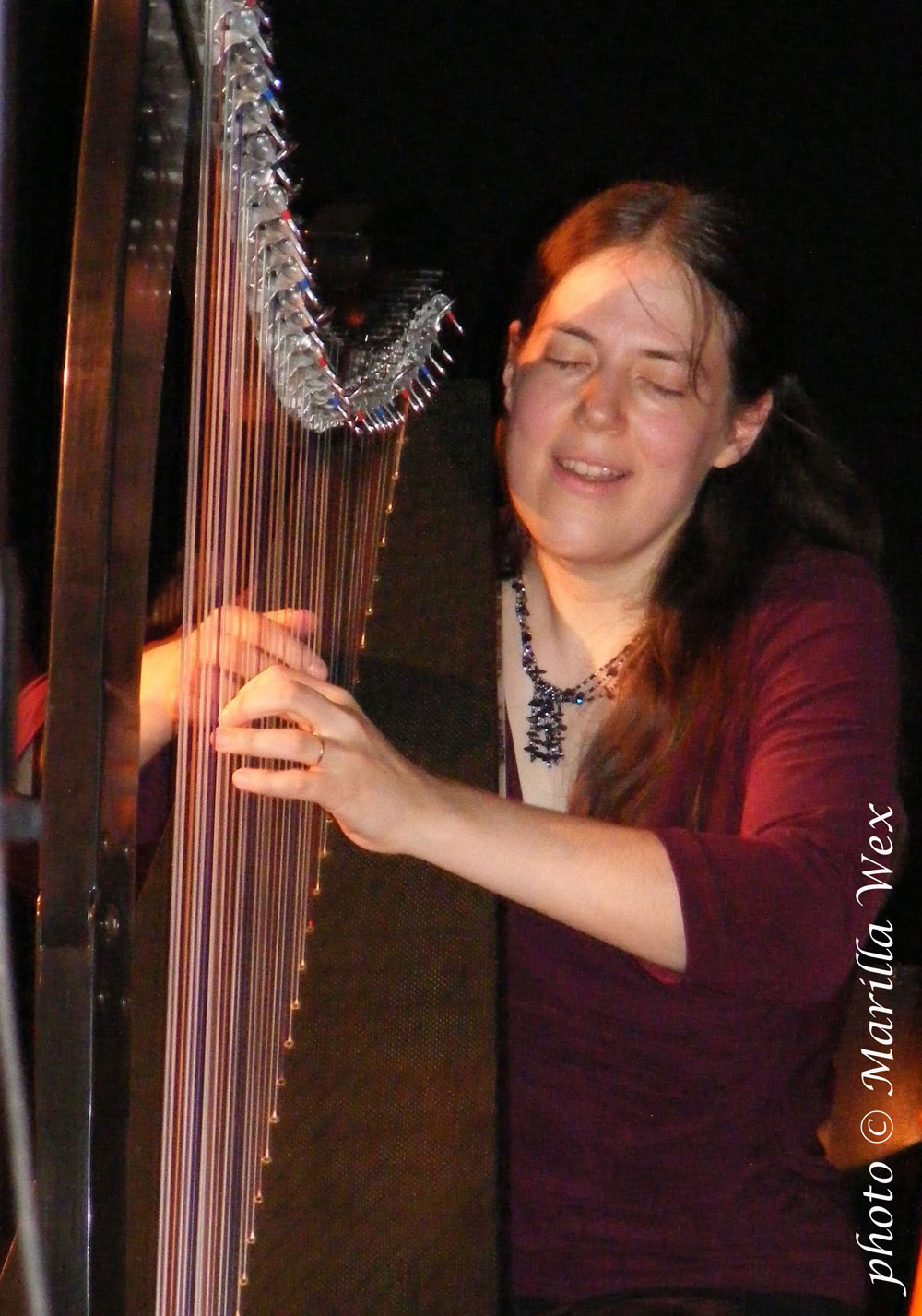 How about a klezmer harp for your next simkha, bar-mitzvah, wedding or anniversary?
Annette performs as soloist or with ensembles. A harpist in Chicago and surrounding area – she will travel throughout North America  – and the World  –  if you want this special music.
Beyond merely adapting Jewish tunes to the harp, Annette creates an unique voice that fits naturally within the idiom of Yiddish music.
She offers a wide ranging repertoire of traditional East European klezmer tunes, Israeli dances, Sephardic melodies, and Yiddish theater repertoire.
She performs with with locally and internationally acclaimed klezmer musicians and singers, especially as Duo Controverso with her husband and clarinetist Kurt Bjorling, who is the director of Chicago Klezmer Ensemble.
Annette was a member in the former klezmer ensembles KaleidoPhon (Germany/Hungary), Myridian (Germany/USA), and the Yiddish music cabaret ensemble Der Agmes Nefesh Ansambl (Germany/France/Israel), and she was musical co-director of the KlezmerOrchester (Germany/Poland/Netherlands).
Annette has performed and taught klezmer music for harp and other instruments, as well as klezmer dances, at international music festivals in Europe and North America.
If you cannot imagine how well a harp fits in klezmer music, take a look at these:
Annette recorded a few – now out of print – CDs with klezmer ensembles in Europe and a private live solo recording.
Please contact her in case you are seriously interested in her unearthing a few secret leftover stashes…
Kaleidophon! – KlezmerInspirationen © 1999
Kaleidophon! – Klezmer mishpokhe © 2001
Das Klezmer Orchester – Bagegenish © 2000
Myridian – From Tradition … To New Horizons © 2004
Myridian – Live 2004 © 2005
Annette Bjorling – Solo Klezmer Harp – A Zise Fargenigndl © 2004
You can still easily get her Duo Controverso CD "Gedanken" in our Store as well as her book with klezmer arrangements for solo harp, solo piano or ensemble with on C-part and one Bb-part.
Would you like to gift a very special present to a loved one? How about having a personal klezmer harp piece played live for someone! Performed over the phone or via video-chat. If wished and if possible, performances could even be live at a private venue or public location. Perfect for Anniversaries, Birthdays, Bar-Mitzvahs & other Celebrations Harp solo - or with clarinet – or any of our ensembles. Contact Annette for more information
Contact us