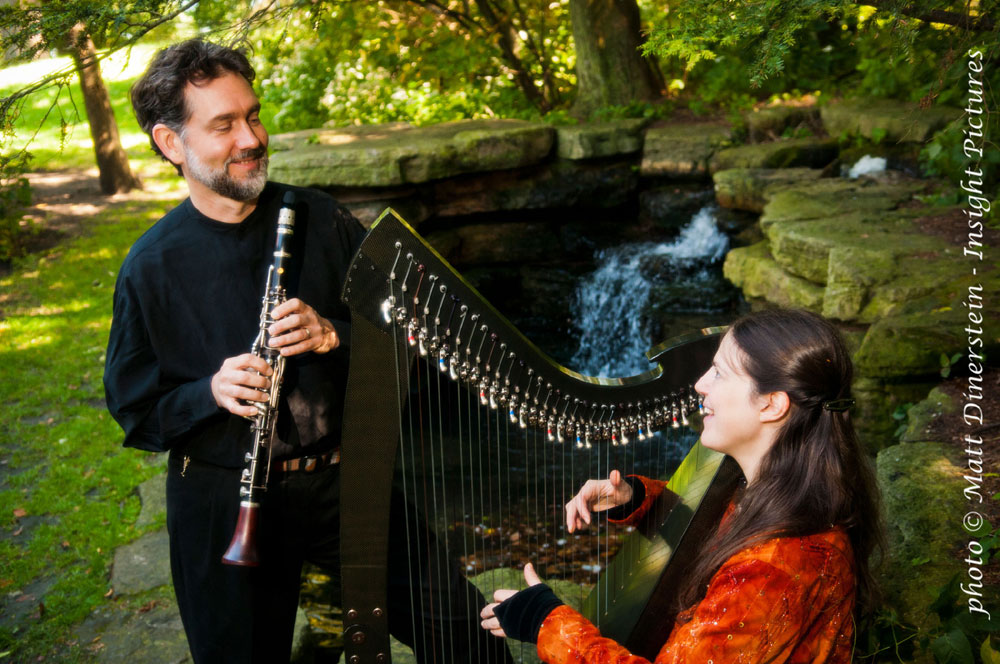 This fabulous duo combination of clarinet & harp takes the listener to a world beyond everyday experience.
Duo Controverso
Kurt Bjorling – Clarinet
Annette Bjorling – Harp
Duo Controverso
Offers a Unique Sound & Instrumentation,
an Exciting & Poetic, Timeless & Modern Repertoire…
… including traditional ethnic music, classical music, original compositions and jazz.
Their intimate acoustic sound spans a wide expressive range,
inviting the listener to pause and enjoy music of quiet intensity and ecstatic energy in an otherwise loud and hurried world.
Annette & Kurt interpret, arrange and improvise pieces based on traditional folk and ethnic music, such as East-European klezmer, Turkish, Greek and Romanian dances, Jewish cantorial solos…
The classical repertoire of Duo Controverso ranges from renaissance and baroque-era masters (Bach, Gibbons, Handel, Lasso, Vivaldi…) classical and romantic favorites (Chopin, Mendelssohn, Spohr…) to French impressionists (Fauré, Debussy, Saint-Saëns…) and contemporary composers.
Annette & Kurt play well-known standards as well as obscure but quite beautiful jazz and pop melodies.
Duo Controverso performs for various occasions: entertaining and educational concerts, creating festive ambiance and lively dance music.
Listen to & watch examples of Duo Controverso's music, and see an excerpt of our eclectic repertoire. You will find our CD in the Store.
For upcoming public performances please visit our Performance Calendar
We also offer lectures and workshop programs about the music, songs and dances of Yiddish culture, with historical information and hands-on coaching. Please contact us for further questions about performances or educational programs.
Contact Us