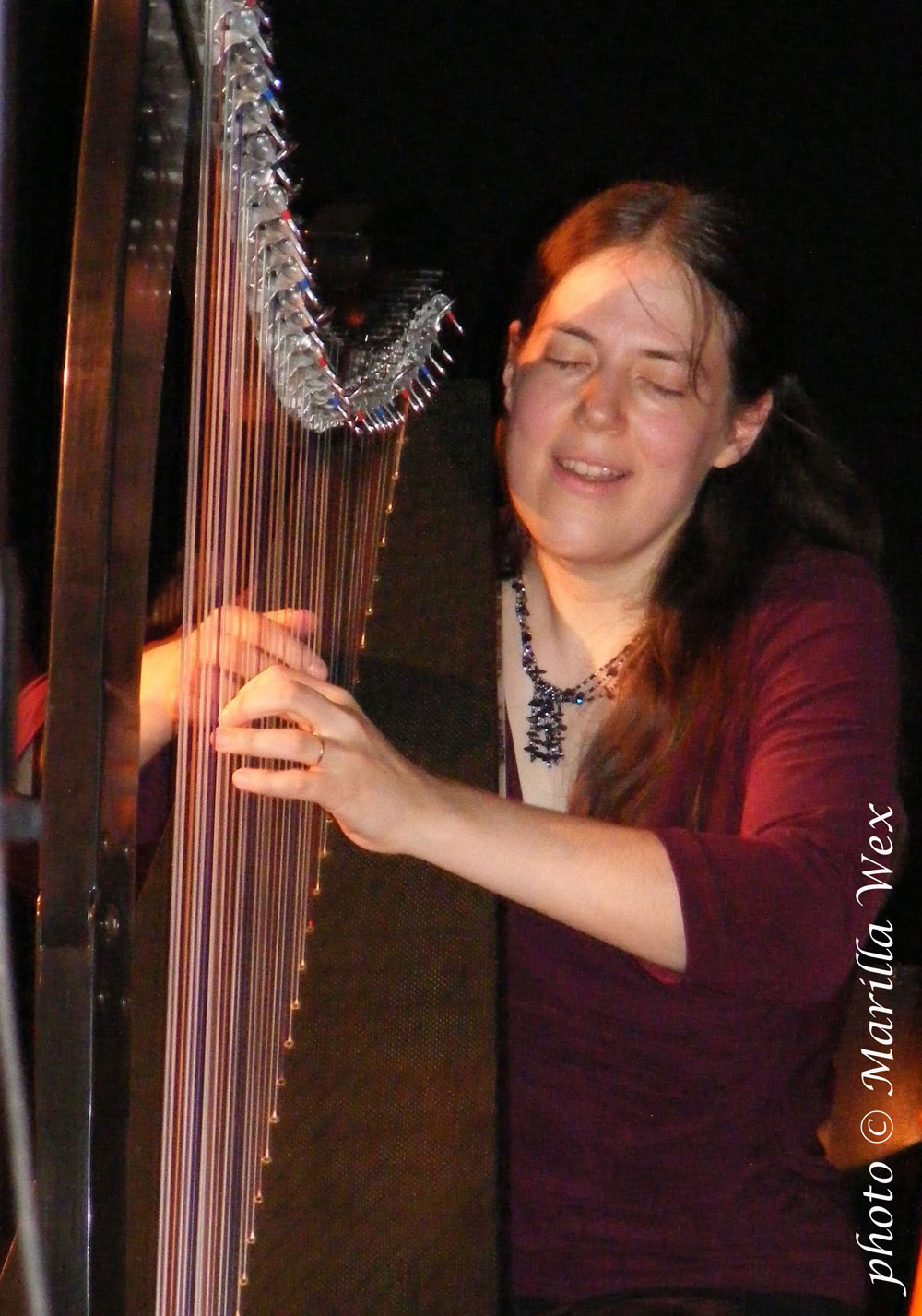 German native Annette Bjorling first studied harp at the music school of Heidelberg, and with various private teachers such as world-renowned Rüdiger Oppermann & Park Stickney.
She holds a Diplom (akin to masters degree) in "Angewandte Kulturwissenshaften & Ästhetische Praxis" (cultural science and education – with focus on music and theater) from the University of Hildesheim (Germany).
Annette has taught private harp and recorder lessons and various music workshops since 1992. She has also been an affiliated teacher for those instruments at The Musical Offering, Evanston, IL, since 2001.
She performs as soloist, and with several ensembles, especially in Duo Controverso with her husband Kurt (clarinets, saxophone, etc.). Also with cellist & hazzan Sarah Alexander, and with tap dancer extraordinaire Mark Yonally, of Chicago Tap Theatre.
Annette is a founding member of the Doctor Who tribute ensemble The Well-Tempered Schism (since 2012).
Former ensembles with Annette's harp include trio Kaleidophon! (Germany), a Yiddish cabaret group Der Agmes Nefesh Ansambl (Germany, Israel), Myridian (USA, Germany), and T.I.M.E. (USA).
Annette was musical director of Das Klezmer Orchester, (Germany, Netherlands, Poland, Denmark), 1997-2003
Further teaching & performing:
performances & teaching at international folk music festivals in Germany, Poland, Hungary & Canada
instructor and performer at international harp conferences: HarpCon2003, Bloomington, IN, in July 2003, and HarpCon2005, in Big Sky, MT, in July 2005; Somerset Folk Harp Festival, Somerset, NJ, July 2004, and July 2005, and Somerset West in San Jose, CA, August 2006
and at regional harp conferences, the Great Lakes Harpers annual conference and immersion weekends since 2002; Big Sky Folk Harp Festival, Big Sky, MT, in July 2007
harp teacher at KlezKanada, Quebec, in August 2007 and 2008.
Theatre Music:
various productions during Annette's highschool and college time
internship at the Jugend-Theater Zwinger 3, Heidelberg, Germany, 1994-1995.
harpist for the folksbiene Yiddish Theater, New York, winter 1999/2000
harpist at the Fantasticks, for the Theo Ubique Theater Company, Chicago, IL, 2005
harpist for a indie dance theatre "B for Butterfly Powder", Chicago, September 2010
currently harpist in the live ensemble of the Chicago Tap Theatre, with several shows each season, since 2011